InStockTrades will be moving across the street to a new warehouse location starting Thursday, June 1st. We will be processing orders up until Wednesday, May 31st at 12pm EST. After that point, our staff will be focusing on packing up our warehouse and transitioning to our new location. We hope to be back processing orders by Monday, June 5th. With this move we will be getting a larger warehouse which will allow us to better house our products and your orders!
We do ask for your patience during this time and ask that you please limit any order inquiries to our customer service team.
William Moulton Martson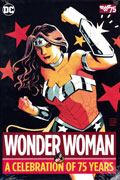 (W) William Moulton Martson & Various (A) Harry G. Peter & Various Celebrate over seven decades of the awe-inspiring Wonder Woman, from early years as one of the first female superheroes in the comics industry, to today. This character has seen countless waves of feminism in her time as one of DC's favorite heroes, what better way to honor her than by collecting the best Wonder Woman stories!
Results 1 - 1 of 1