InStockTrades will be moving across the street to a new warehouse location starting Thursday, June 1st. We will be processing orders up until Wednesday, May 31st at 12pm EST. After that point, our staff will be focusing on packing up our warehouse and transitioning to our new location. We hope to be back processing orders by Monday, June 5th. With this move we will be getting a larger warehouse which will allow us to better house our products and your orders!
We do ask for your patience during this time and ask that you please limit any order inquiries to our customer service team.
Carine-M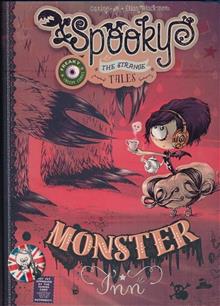 (W) Carine-M, Elian Black'more (A) Elian Black'more, Carine-M (CA) Carine-M, Elian Black'more Turn the traditional fairy tale tropes topsy-turvy in this lavishly illustrated storybook as Spooky explores her dark, enchanted world. Once upon a time, in the heart of the kingdom of Fairy Tales, a king and queen had the strangest of children... Spooky! And when uncles the Three Little Pigs offer a trip to their London hotel, Spooky trades one improbable setting for another! Monster Inn shines a charming, childish light on contemporary goth culture for a rich and unique story that's out of this world.
Results 1 - 1 of 1