InStockTrades will be moving across the street to a new warehouse location starting Thursday, June 1st. We will be processing orders up until Wednesday, May 31st at 12pm EST. After that point, our staff will be focusing on packing up our warehouse and transitioning to our new location. We hope to be back processing orders by Monday, June 5th. With this move we will be getting a larger warehouse which will allow us to better house our products and your orders!
We do ask for your patience during this time and ask that you please limit any order inquiries to our customer service team.
Keith Jones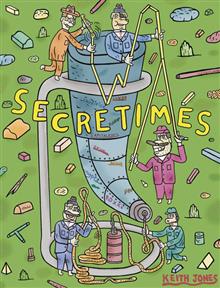 (W/A/CA) Keith Jones When two simple hobos - a pigeon and his elephant buddy - are wrongfully accused of murdering Mr. Mouse Mouser, the consequences are dire. Jones delineates an alternate universe-a world that favors the rich and grinds the poor and unfortunate into paste. Each page is a brightly colored nightmare populated with vapid celebrities and lazily scheming businessmen. Secretimes is darkly funny in Jones's irresistibly off-kilter signature style.
Results 1 - 1 of 1