InStockTrades will be moving across the street to a new warehouse location starting Thursday, June 1st. We will be processing orders up until Wednesday, May 31st at 12pm EST. After that point, our staff will be focusing on packing up our warehouse and transitioning to our new location. We hope to be back processing orders by Monday, June 5th. With this move we will be getting a larger warehouse which will allow us to better house our products and your orders!
We do ask for your patience during this time and ask that you please limit any order inquiries to our customer service team.
Harold Foster
(W/A/CA) Harold Foster In the second volume of the definitive edition of Foster's masterpiece, Valiant helps his father reclaim his throne in the kingdom of Thule, fights alongside King Arthur, and is made a knight of the Round Table - just for starters.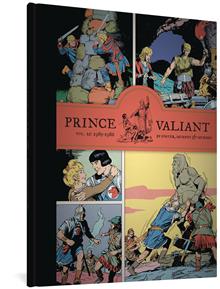 (W) Harold Foster (A) John Cullen Murphy, Cullen Murphy Fantagraphics is proud to present the 25th volume of one of the most enduring comic strips, based on Arthurian legend, ever created. As this latest collection begins, Val and Arn are in Lappland, where they get involved with two twin brothers' struggle over succession. Arn consults a mystical hermit about whether his destiny intertwines with Maeve's, the daughter of an archenemy. With the sinister Mordred in control of Camelot, Val and Aleta seek to raise an army; this goal requires Val to capture a notorious outlaw, battle a troll, and find a hidden treasure. Arthur's forces come together at High Cross, and he wages an epic battle for the fate of Camelot, during which Arn becomes a knight of the round table. Also included, Prince Valiant writer Cullen Murphy and colorist Meg Murphy pay tribute to their mother, Joan, model for Aleta and other female characters for their father.
Results 1 - 2 of 2