InStockTrades will be moving across the street to a new warehouse location starting Thursday, June 1st. We will be processing orders up until Wednesday, May 31st at 12pm EST. After that point, our staff will be focusing on packing up our warehouse and transitioning to our new location. We hope to be back processing orders by Monday, June 5th. With this move we will be getting a larger warehouse which will allow us to better house our products and your orders!
We do ask for your patience during this time and ask that you please limit any order inquiries to our customer service team.
Jodie Bellaire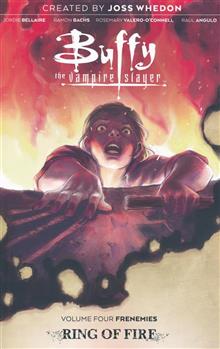 (W) Jodie Bellaire (A) Rosemary Valero-O'Connell, Various (CA) David Lopez After the shocking conclusion to the Hellmouth event, The Slayer must defend Sunnydale...AND IT'S KENDRA? Welcome to the next era of the Buffy-verse...the Ring of Fire! That's right, there's a New Slayer in Sunnydale, who must confront an all-new threat to the ENTIRE WORLD and she'll need to pull the Scooby gang together once more after what happened to Buffy? WAIT...WHAT HAPPENED TO BUFFY? Eisner Award-nominated writer Jordie Bellaire (Redlands) and artist Julian L?pez (X-Men: Blue) kick off a new era for Slayers and Scoobies by revealing a secret that will change everything you think you know about Buffy! Collects Buffy the Vampire Slayer #13-16.
Results 1 - 1 of 1