InStockTrades will be moving across the street to a new warehouse location starting Thursday, June 1st. We will be processing orders up until Wednesday, May 31st at 12pm EST. After that point, our staff will be focusing on packing up our warehouse and transitioning to our new location. We hope to be back processing orders by Monday, June 5th. With this move we will be getting a larger warehouse which will allow us to better house our products and your orders!
We do ask for your patience during this time and ask that you please limit any order inquiries to our customer service team.
Eva de la Cruz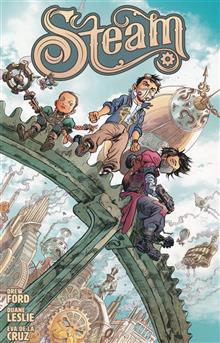 (W) Eva de la Cruz (A) Duane Ford (CA) Adela Cruz A young boy named Arlo escapes his abusive guardians on Earth, through an intergalactic portal to the steam-powered planet of Pother. While there he discovers that his long-lost father inadvertently helped a powerful corporation from Earth, in their efforts to deplete the planet's resources. In an attempt to set things right, Arlo joins a small group of resisters from Pother, as they work to both remove this dangerous organization from their world and protect the planet's indigenous beings. Through this epic adventure, Arlo discovers his own self-worth, and perhaps even his life's ultimate destiny. o Steampunk for kids!
Results 1 - 1 of 1