InStockTrades will be moving across the street to a new warehouse location starting Thursday, June 1st. We will be processing orders up until Wednesday, May 31st at 12pm EST. After that point, our staff will be focusing on packing up our warehouse and transitioning to our new location. We hope to be back processing orders by Monday, June 5th. With this move we will be getting a larger warehouse which will allow us to better house our products and your orders!
We do ask for your patience during this time and ask that you please limit any order inquiries to our customer service team.
Clive Barker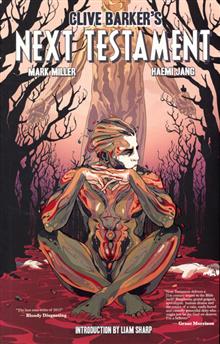 (W) Clive Barker, Mark L. Miller (A) Haemi Jang (CA) Goni Montes The being known as Wick has been freed, and has begun delivering swift vengeance upon the world. But he's not alone in his quest, as he gains acceptance and followers around the world - and crushes any that oppose him. Meanwhile, Tristan and Elspeth try to pick up the pieces in the wake of a devastating plane crash, and must survive the deadly obstacles thrown in their path as they weave their way through this new and inhospitable world. One of the most critically acclaimed horror comics in recent memory, this edition collects issues #5-8 of Horror Master Clive Barker's latest epic, with help from cowriter Mark Miller (Hellraiser) and artist Haemi Jang (Hellraiser: The Road Below).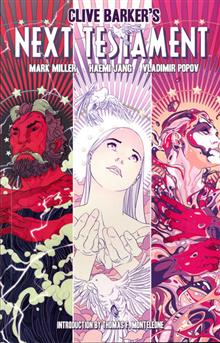 (W) Clive Barker, Mark L. Miller (A) Haemi Jang (CA) Goni Montes In the final chapter of the Harvey Award-nominated epic, Tristan and Elspeth desperately race to a library in Providence, Rhode Island, where their only hope of defeating Wick awaits. Meanwhile, Wick finds a new apprentice and Julian's final fate is revealed. Collects issues #9-12.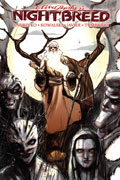 (W) Clive Barker, Marc Andreyko (A) Piotr Kowalski (CA) Riley Rossmo Synopsis: In the catacombs beneath an abandoned cemetery lies the city of Midian. A home to all that have none, this sanctuary from the cruelty of man has been sought by monsters throughout time. Explore both the past and present of this clandestine tribe, unleashing new secrets and horrors as these creatures fight to coexist with mankind. From master storyteller Clive Barker, writer Marc Andreyko (Batwoman) and artists Piotr Kowalski (Dark Tower: The Drawing of Three) and Emmanuel Xerx Javier (Raven Nevermore) comes the story behind Midian's most famous monsters and the one who is destined to save them all! Collects issues #5-8.
Results 1 - 3 of 3