InStockTrades will be moving across the street to a new warehouse location starting Thursday, June 1st. We will be processing orders up until Wednesday, May 31st at 12pm EST. After that point, our staff will be focusing on packing up our warehouse and transitioning to our new location. We hope to be back processing orders by Monday, June 5th. With this move we will be getting a larger warehouse which will allow us to better house our products and your orders!
We do ask for your patience during this time and ask that you please limit any order inquiries to our customer service team.
David M. Booher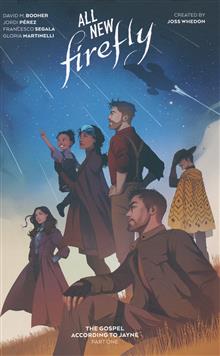 (W) David M. Booher (A) Jordi Perez (CA) Mona Finden Rising star writer David M. Booher and artist Jordi P?rez plot an all-new era for the future of the Serenity, while also revealing new secrets from the crew's past! After their adventures on The Earth That Was, the crew of the Serenity are reunited under the leadership of Captain Kaylee, and undertake a mission that will test their moral code. It's not long before the crew collides with the mysterious history of the crew member responsible for this whole mess-the Hero of Canton himself, one Jayne Cobb.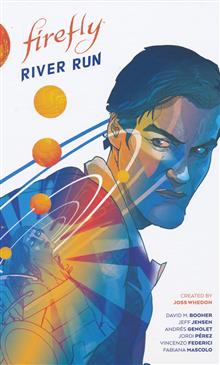 (W) David M. Booher, Jeff Jensen (A) Various (CA) Christian Ward * Simon Tam will do anything to save his little sister from the Alliance? and it might cost him everything- his wealth, career, parents, his perfect life on the Central Planets. * Plus, it's time for a Christmas Carol, Firefly style! Jayne's selfish behavior receives the unwanted attention of three visiting spirits who reveal his hidden past, present, and future. * Acclaimed writers David M. Booher (Canto) and Jeff Jensen (Green River Killer: A True Detective), and artists Andr?s Genolet (Runaways), Vincenzo Federici (Red Sonja), Jordi P?rez (Xena: Warrior Princess), and Fabiana Mascolo (The Dark Crystal: Age of Resistance) deliver two stories no Browncoat can afford to miss. * Collects Firefly: River Run #1 and Firefly: Holiday Special #1.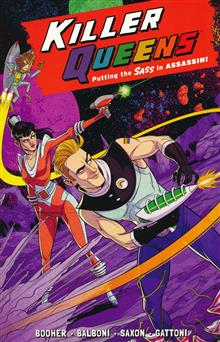 (W) David M. Booher (A/CA) Claudia Balboni They put the SASS in ASSASSIN! Meet Max & Alex. Reformed intergalactic assassins-for-hire. On the run. Also super gay. Their former boss-a fluffy monkey with a jetpack-is hot on their tail to take back his stolen ship. They gotta eat (tacos preferably), so they take a mission from Alex's old flame. Your standard no-kill, casualty-free kidnapping recovery from a nearby moon. Only complication? Half the moon is ruled by a fascist dictator hostile to foreigners. They're the Killer Queens, so what could possibly go wrong? Pretty much everything. o Collects the four-issue miniseries. 'It is a testament to progress in regards to where we are now in light of how far we have come.' -GWW
Results 1 - 3 of 3