InStockTrades will be moving across the street to a new warehouse location starting Thursday, June 1st. We will be processing orders up until Wednesday, May 31st at 12pm EST. After that point, our staff will be focusing on packing up our warehouse and transitioning to our new location. We hope to be back processing orders by Monday, June 5th. With this move we will be getting a larger warehouse which will allow us to better house our products and your orders!
We do ask for your patience during this time and ask that you please limit any order inquiries to our customer service team.
Chuck Brown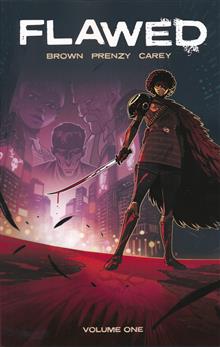 (W) Chuck Brown (A/CA) Prenzy 'Brings forward a brutal tale of murder and revenge that leans into psychological warfare in a refreshing way.' -ComicBook.com Eisner Award-winning BITTER ROOT cowriter CHUCK BROWN and superstar artist PRENZY (ON THE STUMP) reunite for an ultra-violent, high-octane thrill ride that's Frasier meets The Punisher! Gem Ezz is a psychiatrist in the Kafkaesque city of Setham, where corruption and brutality rule the streets. By day, she uses words to solve her patients' problems. By night, she takes a more direct-and sometimes deadly-approach. But when her practice puts her in the sights of an immortal serial killer, Gem finds herself embroiled in a power struggle that threatens everything she's ever known. Collects FLAWED #1-6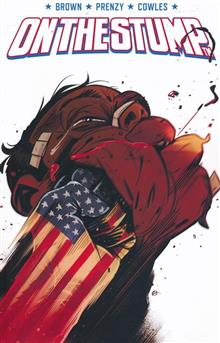 (W) Chuck Brown (A/CA) Francesco Chiappara ADVANCE SOLICIT The campaign trail is paved with blood and broken bones. History diverged one fateful day in 1868, when presidential candidate Horatio Seymour lost his temper mid-debate and violently attacked Ulysses S. Grant, earning him not only widespread popularity but the presidency as well. Today, elections are decided by brutal, highly publicized hand-to-hand combat in arenas called Stumps. And in a society that adores violence this much, it's no surprise that powerful people get away with murder. But not for long-not if Senator Jack Hammer and FBI Agent Anna Bell Lister have anything to say about it. Eisner-nominated writer CHUCK BROWN (BITTER ROOT, Rotten Apple) teams up with artist FRANCESCO CHIAPPARA and letterer CLAYTON COWLES for a political action series set in a hyper-violent world full of countless injustices and people who have to fight for their place in it. Collects ON THE STUMP #1-5.
Results 1 - 2 of 2