InStockTrades will be moving across the street to a new warehouse location starting Thursday, June 1st. We will be processing orders up until Wednesday, May 31st at 12pm EST. After that point, our staff will be focusing on packing up our warehouse and transitioning to our new location. We hope to be back processing orders by Monday, June 5th. With this move we will be getting a larger warehouse which will allow us to better house our products and your orders!
We do ask for your patience during this time and ask that you please limit any order inquiries to our customer service team.
Nate Powell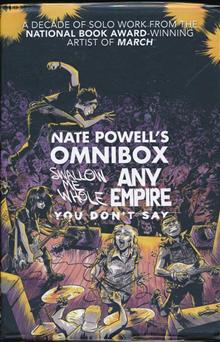 (W/A/CA) Nate Powell Nate Powell has been called 'a writer-artist of genius' and 'the most prodigiously talented graphic novelist' of his generation. This box contains the reasons why. Swallow Me Whole won the Eisner Award for its portrayal of teen mental illness, Any Empire explores the trickle-down effects of war on young minds, and You Don't Say collects Powell's short comics from 2004 up to the debut of the landmark March trilogy. Together, these three volumes represent the first decade of mature work from one of the new giants of cartooning: a creator renowned for his sensitivity, intimacy, and visual courage.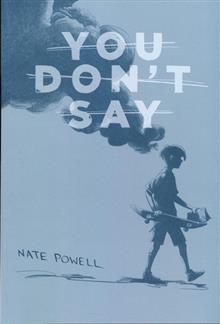 (W/A/CA) Nate Powell A celebrity glares. A community burns. A child's heart breaks. A recipe summons a ghost. A dying woman makes her peace. An art form sustains the spirit. In You Don't Say award-winning graphic novelist Nate Powell -- of the #1 New York Times Bestseller March: Book One, and the Eisner Award-Winning "Graphic Novel of the Year" Swallow Me Whole -- collects a decade of powerful short works. Autobiography, fiction, essay comics, collaborations, and more fill these thoughtful, pitch-black pages, comprising rare and previously unreleased material from 2004-2013.
Results 1 - 2 of 2