InStockTrades will be moving across the street to a new warehouse location starting Thursday, June 1st. We will be processing orders up until Wednesday, May 31st at 12pm EST. After that point, our staff will be focusing on packing up our warehouse and transitioning to our new location. We hope to be back processing orders by Monday, June 5th. With this move we will be getting a larger warehouse which will allow us to better house our products and your orders!
We do ask for your patience during this time and ask that you please limit any order inquiries to our customer service team.
Mark Waid - Martin Pasko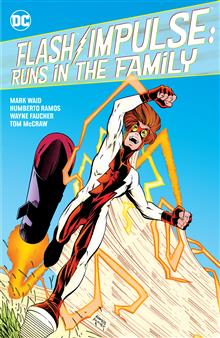 (W) Mark Waid - Martin Pasko (A) Various (CA) Humberto Ramos - Wayne Faucher Impulse, the Flash?s hyperactive descendant from the 30th century, has landed in the present and is ready to make a superhero name for himself! Due to his hyper-accelerated metabolism, Bart Allen was aging fast?like, really fast?and was raised in a 30th-century virtual reality simulation. So when he winds up in our era, he sees the world as one big video game?and he?s got a lot to learn. Luckily, Bart has a mentor named Max Mercury, and if anyone?s up to the task, it?s the zen master of the Speed Force. In this collection, Bart adjusts to life in the 20th century, keeping the town of Manchester, Alabama, safe from threats like White Lightning and Gridlock. Also in this title, Savitar?s machinations in the Speed Force cause Impulse, the Flash, and other super-speedsters to lose their speed! This volume collects Impulse #1-12 and The Flash #108-111.
Results 1 - 1 of 1