InStockTrades will be moving across the street to a new warehouse location starting Thursday, June 1st. We will be processing orders up until Wednesday, May 31st at 12pm EST. After that point, our staff will be focusing on packing up our warehouse and transitioning to our new location. We hope to be back processing orders by Monday, June 5th. With this move we will be getting a larger warehouse which will allow us to better house our products and your orders!
We do ask for your patience during this time and ask that you please limit any order inquiries to our customer service team.
Daniel Keyes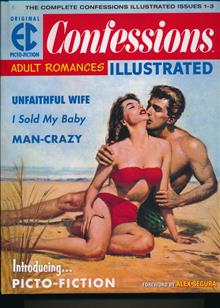 (W) Daniel Keyes (A) Reed Crandall & Various (CA) Bud Parke Contained here is the complete run of Confessions Illustrated, an innovative 'Picto-Fiction' magazine containing illustrated prose stories of scandal and forbidden romance, illustrated by industry legends: Wally Wood, Joe Orlando, Reed Crandell, and more! This archive volume contains Confessions Illustrated issues #1-#3. o Features stories created by celebrated comic artists Joe Orlando, Reed Crandall, Wally Wood, and more!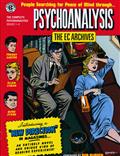 (W) Daniel Keyes, Robert Bernstein (A) Jack Kamen (CA) Carlos Badilla A journey into the subconscious minds of three people searching for answers and peace through personal turmoil. This hardcover volume collects the complete run of Psychoanalysis, recolored digitally using the original palette and featuring art by legendary comics talent Jack Kamen and stories written by Daniel Keyes (Flowers for Algernon)!
Results 1 - 2 of 2