InStockTrades will be moving across the street to a new warehouse location starting Thursday, June 1st. We will be processing orders up until Wednesday, May 31st at 12pm EST. After that point, our staff will be focusing on packing up our warehouse and transitioning to our new location. We hope to be back processing orders by Monday, June 5th. With this move we will be getting a larger warehouse which will allow us to better house our products and your orders!
We do ask for your patience during this time and ask that you please limit any order inquiries to our customer service team.
Brian Schirmer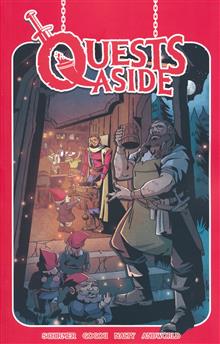 (W) Brian Schirmer (A) Elena Gogou (CA) Michael Dialynas A skeleton, an apprentice mage, and an exiled princess walk into a bar? for another shift at Quests Aside, the local watering hole run by once legendary, now retired, adventurer Barrow. When the King privately explains that he plans to shut the place down, Barrow must find a way to hold onto his business, the friendships, and the family he's built around it. It?s always sunny in the realms! Collects the entire, best-selling 5-issue series!
Results 1 - 1 of 1