InStockTrades will be moving across the street to a new warehouse location starting Thursday, June 1st. We will be processing orders up until Wednesday, May 31st at 12pm EST. After that point, our staff will be focusing on packing up our warehouse and transitioning to our new location. We hope to be back processing orders by Monday, June 5th. With this move we will be getting a larger warehouse which will allow us to better house our products and your orders!
We do ask for your patience during this time and ask that you please limit any order inquiries to our customer service team.
Claudio Sanchez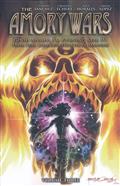 (W) Claudio Sanchez, Chondra Echert (A/CA) Rags Morales The final chapter begins as the Rebel Army begins their assault on Apity Prime, while Claudio and Ambellina find themselves face-to-face with Wilhelm Ryan, while the great battle outside Kalline is in full bloom, and Inferno and Mayo meet face-to-face on the battlefield. Writers Claudio Sanchez (COHEED & CAMBRIA) and Chondra Echert (Translucid) team with illustrator Rags Morales (Avengers) to conclude the latest chapter in the Epic AMORY WARS saga. Collects issues #9-12.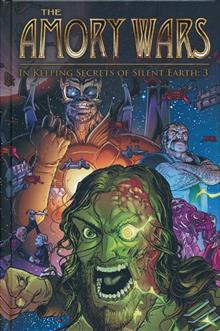 (W) Claudio Sanchez, Peter David (A) Chris Burnham, Aaron Kuder (CA) Chris Burnham Acclaimed rock band Coheed and Cambria bring the mythology that surrounds their albums to life on the printed page, exactly the way lead singer Claudio Sanchez envisions! The final salvo for this chapter of the Amory Wars epic! Claudio cannot escape his fate. He must be the hero the Keywork needs him to be. But between him and victory stands both a resurrected Wilhelm Ryan and Al the Killer! From Claudio Sanchez, leader of Coheed and Cambria, and New York Times-bestselling novelist Peter David!
Results 1 - 2 of 2