InStockTrades will be moving across the street to a new warehouse location starting Thursday, June 1st. We will be processing orders up until Wednesday, May 31st at 12pm EST. After that point, our staff will be focusing on packing up our warehouse and transitioning to our new location. We hope to be back processing orders by Monday, June 5th. With this move we will be getting a larger warehouse which will allow us to better house our products and your orders!
We do ask for your patience during this time and ask that you please limit any order inquiries to our customer service team.
Len Wein George Perez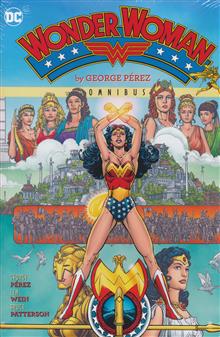 (W) George Perez, Len Wein (A) George Perez, Bruce Patterson, Various (CA) George Perez Offered again! The World?s Greatest Heroine was reimagined in 1986 by legendary comics creator George P?rez?and this new incarnation rose to unprecedented levels of popular and critical acclaim. In collaboration with co-writer Len Wein and inker Bruce Patterson, P?rez went on to craft Wonder Woman?s adventures for years, and his masterful stories ranged from heart-stopping battles with the Titans of myth to heartwarming interludes with Diana?s trusted network of friends. Includes WONDER WOMAN #1-24 and WONDER WOMAN ANNUAL #1.
Results 1 - 1 of 1