InStockTrades will be moving across the street to a new warehouse location starting Thursday, June 1st. We will be processing orders up until Wednesday, May 31st at 12pm EST. After that point, our staff will be focusing on packing up our warehouse and transitioning to our new location. We hope to be back processing orders by Monday, June 5th. With this move we will be getting a larger warehouse which will allow us to better house our products and your orders!
We do ask for your patience during this time and ask that you please limit any order inquiries to our customer service team.
Mattel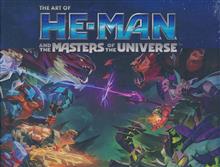 (W/A) Mattel Witness Eternia as you've never seen it before! This exciting tome brings you an all new look at the newest incarnation of Masters of the Universe, bringing an exciting sci-fi twist to the classic series. Featuring a behind-the-scenes look at all of He-Man's allies, the evil minions of Skeletor, and the strange and alien landscapes, creatures, technology of Eternia! In addition, this volume showcases the creation process of all aspects of this show with never-before-seen material. Dark Horse Books and Mattel proudly present: The Art of He-Man and the Masters of the Universe! A welcome addition to the collection of any Masters of the Universe fan! o A behind the scenes look at the hit animated series now airing on Netflix!
Results 1 - 1 of 1