InStockTrades will be moving across the street to a new warehouse location starting Thursday, June 1st. We will be processing orders up until Wednesday, May 31st at 12pm EST. After that point, our staff will be focusing on packing up our warehouse and transitioning to our new location. We hope to be back processing orders by Monday, June 5th. With this move we will be getting a larger warehouse which will allow us to better house our products and your orders!
We do ask for your patience during this time and ask that you please limit any order inquiries to our customer service team.
Earl Mac Rauch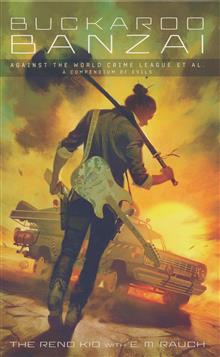 (W) Earl Mac Rauch A prose adventure as told by the Reno Kid to Buckaroo Banzai chronicler E.M. Rauch, this tale follows everyone's favorite scientist-surgeon-entertainer-daredevil as he sets off on a brand-new hair-raising adventure! The long-awaited sequel to The Adventures of Buckaroo Banzai Across the 8th Dimension is finally here! o The cult classic receives its long-awaited official sequel! o Buckaroo Banzai is a treasured pop culture icon, lauded by 'nerd' luminaries like Kevin Smith! o This is the adventure that was teased at the end of the original Buckaroo Banzai film! o A new novel by the writer of the original screenplay!
Results 1 - 1 of 1