InStockTrades will be moving across the street to a new warehouse location starting Thursday, June 1st. We will be processing orders up until Wednesday, May 31st at 12pm EST. After that point, our staff will be focusing on packing up our warehouse and transitioning to our new location. We hope to be back processing orders by Monday, June 5th. With this move we will be getting a larger warehouse which will allow us to better house our products and your orders!
We do ask for your patience during this time and ask that you please limit any order inquiries to our customer service team.
Jadzia Axelrod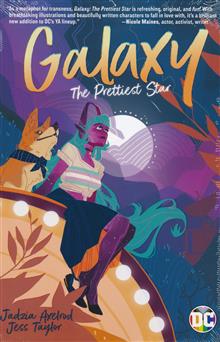 (W) Jadzia Axelrod (A/CA) Jess Taylor Every day in Taylor Barzelay?s life might seem perfect?but every day is torture. Taylor is actually the Galaxy Crowned, an alien princess from the planet Cyandii, and one of the few survivors of an intergalactic war. For six long, painful years, Taylor has accepted her duty to remain in hiding as a boy on Earth. But that all changes when Taylor meets Metropolis girl Katherine call me Kat Silverberg, whose confidence is electrifying. Suddenly, Taylor no longer wants to hide, even if exposing her true identity could attract her greatest enemies.
Results 1 - 1 of 1