InStockTrades will be moving across the street to a new warehouse location starting Thursday, June 1st. We will be processing orders up until Wednesday, May 31st at 12pm EST. After that point, our staff will be focusing on packing up our warehouse and transitioning to our new location. We hope to be back processing orders by Monday, June 5th. With this move we will be getting a larger warehouse which will allow us to better house our products and your orders!
We do ask for your patience during this time and ask that you please limit any order inquiries to our customer service team.
Jed M McGowan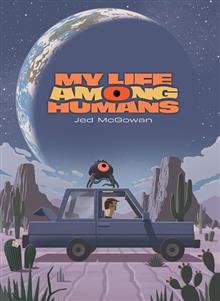 (W/A/CA) Jed M McGowan A nameless alien data compiler comes to Earth to study humans, setting up shop on the outskirts of a small desert community in?North America. Working under forced labor, it must watch humans in complete secrecy while sending regular reports to its manager back home. Using spore-like technology to read the minds of his hosts, the alien quickly takes a special interest in Will, one of his early subjects. That interest proves to be a problem when the alien is accidentally revealed to Will's family and it takes desperate measures to save its own life.? In doing so, it discovers a forbidden ability...it can control human minds. Now, the alien struggles to keep this secret from its manager, deal with a growing number of suspicious humans, and come to terms with its ethically questionable decisions.?My Life Among Humans?is a beautifully painted, evocative first graphic novel from illustrator and cartoonist Jed McGowan.??
Results 1 - 1 of 1