InStockTrades will be moving across the street to a new warehouse location starting Thursday, June 1st. We will be processing orders up until Wednesday, May 31st at 12pm EST. After that point, our staff will be focusing on packing up our warehouse and transitioning to our new location. We hope to be back processing orders by Monday, June 5th. With this move we will be getting a larger warehouse which will allow us to better house our products and your orders!
We do ask for your patience during this time and ask that you please limit any order inquiries to our customer service team.
Harry Bozino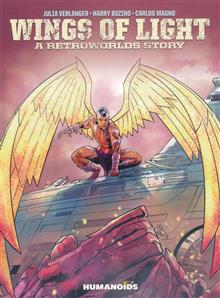 (W) Harry Bozino (A) Carlos Magno Two Earthlings find themselves at the mercy of a stringent religious sect on a far-off planet when they rescue a young woman who mated with a mysterious creature. In the distant future, Earthlings explore worlds scattered at the far reaches of the cosmos, on which civilizations have often forgotten they are descendants of settlers from Earth. Two young agents on a mission visit a planet that has reverted to a medieval way of life, but when they save a young pregnant woman who has been sentenced to death for mating with a mysterious and mythical 'angel with wings of light,' they find themselves entrenched in political turmoil with a religious party who has ascended to power.
Results 1 - 1 of 1