InStockTrades will be moving across the street to a new warehouse location starting Thursday, June 1st. We will be processing orders up until Wednesday, May 31st at 12pm EST. After that point, our staff will be focusing on packing up our warehouse and transitioning to our new location. We hope to be back processing orders by Monday, June 5th. With this move we will be getting a larger warehouse which will allow us to better house our products and your orders!
We do ask for your patience during this time and ask that you please limit any order inquiries to our customer service team.
Julie Benson, Shawna Benson Joshua Williamson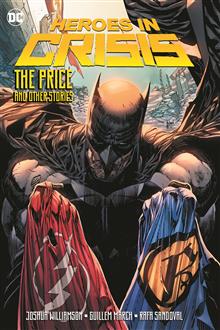 (W) Joshua Williamson, Julie Benson, Shawna Benson (A) Various (CA) Guillem March Batman and the Flash cross paths again in this story that ties into Heroes in Crisis! Gotham Girl is missing, and it will take both Batman and the Flash to find out where she's gone and if she has anything to do with the horrifying events at Sanctuary. Both Batman and the Flash have lost their sidekicks, now will they lose each other? Plus, Green Arrow is forced to take a hard look at himself and his methods after the death of his former sidekick, Arsenal! Collects Batman #64-65, The Flash #64-65, Green Arrow #45 and #48-50, and The Flash Annual #2.
Results 1 - 1 of 1