InStockTrades will be moving across the street to a new warehouse location starting Thursday, June 1st. We will be processing orders up until Wednesday, May 31st at 12pm EST. After that point, our staff will be focusing on packing up our warehouse and transitioning to our new location. We hope to be back processing orders by Monday, June 5th. With this move we will be getting a larger warehouse which will allow us to better house our products and your orders!
We do ask for your patience during this time and ask that you please limit any order inquiries to our customer service team.
Dave Stevens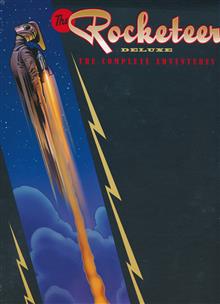 (W/A/CA) Dave Stevens Take flight with Cliff and Betty in this beautiful oversized collection that features the orginal complete comics saga! This long-out-of-print collection, and Eisner-award winner for best design, features the entire Rocketeer saga by Dave Stevens, plus more than 100 pages of supplemental material-sketches, prelims, and tons more-giving new insight into the artist's thought processes as he was developing The Rocketeer! And all wrapped up in a lovely slipcase! Dave Stevens' The Rocketeer burst onto the shelves of comic book shops 40 years ago! This beautifully illustrated and charming story features the adventures of down-and-out stunt pilot Cliff Secord after he finds an experimental jetpack. With the help of his closest friend and confidante Peevy, and the support (mostly) of his beautiful girlfriend Betty, Cliff takes to the skies in 1938 Los Angeles. Intrigue abounds as Cliff finds himself fighting enemy spies and nefarious criminals, all the while trying to keep his personal life with Betty from being waylaid by his double-life as The Rocketeer!
Results 1 - 1 of 1