InStockTrades will be moving across the street to a new warehouse location starting Thursday, June 1st. We will be processing orders up until Wednesday, May 31st at 12pm EST. After that point, our staff will be focusing on packing up our warehouse and transitioning to our new location. We hope to be back processing orders by Monday, June 5th. With this move we will be getting a larger warehouse which will allow us to better house our products and your orders!
We do ask for your patience during this time and ask that you please limit any order inquiries to our customer service team.
Chris Oliveros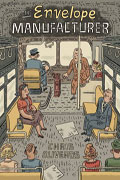 (W/A/CA) Chris Oliveros The Envelope Manufacturer documents the hardships and gradual disintegration of an independent small business. The book begins as the head of the manufacturing company is already deep in financial straits: he struggles to deal with a series of late payments and dwindling orders. The pressures begin to affect him psychologically and it grows ever harder to distinguish between reality and his imaginings. Set in the mid twentieth century, just before globalization moved production of goods overseas, The Envelope Manufacturer chronicles the gradual demise of a small company as it struggles to adapt to a changing economic landscape.
Results 1 - 1 of 1