InStockTrades will be moving across the street to a new warehouse location starting Thursday, June 1st. We will be processing orders up until Wednesday, May 31st at 12pm EST. After that point, our staff will be focusing on packing up our warehouse and transitioning to our new location. We hope to be back processing orders by Monday, June 5th. With this move we will be getting a larger warehouse which will allow us to better house our products and your orders!
We do ask for your patience during this time and ask that you please limit any order inquiries to our customer service team.
Robert Kanigher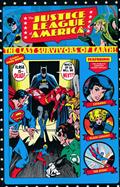 (W) Dennis O'Neil & Various (A) Dick Dillin, Joe Giella The Justice League of America welcomed the start of the 1970s with these tales from issues #77-84, #86-92, #94 and #95! In these stories that reflected the social issues of the day, the World's Greatest Heroes are betrayed by Snapper Carr, who's being manipulated by The Joker. Plus, the Vigilante comes out of retirement to help the team learn the truth behind a pollution-blasting factory; the team faces a Thanagarian arch-villain; the Red Tornado fights for his freedom; the survivors of a sunken continent that abandoned Earth return to wipe out humanity and much more!
Results 1 - 1 of 1