InStockTrades will be moving across the street to a new warehouse location starting Thursday, June 1st. We will be processing orders up until Wednesday, May 31st at 12pm EST. After that point, our staff will be focusing on packing up our warehouse and transitioning to our new location. We hope to be back processing orders by Monday, June 5th. With this move we will be getting a larger warehouse which will allow us to better house our products and your orders!
We do ask for your patience during this time and ask that you please limit any order inquiries to our customer service team.
Tommy Redolfi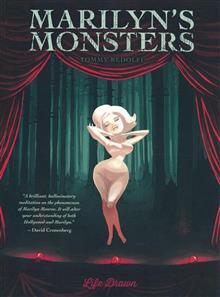 (W/A/CA) Tommy Redolfi The famous Hollywood Hills. A strange, twisted forest filled with freaks and broken down trailers. In this dark world, movie stars are born in the shadows. Determined to become the greatest one of all, shy Norma Jean Baker (Marilyn Monroe) comes to this ghost-town with hopes and dreams. Unfortunately, she'll have to face all kinds of monsters to reach her ultimate goal.
Results 1 - 1 of 1