InStockTrades will be moving across the street to a new warehouse location starting Thursday, June 1st. We will be processing orders up until Wednesday, May 31st at 12pm EST. After that point, our staff will be focusing on packing up our warehouse and transitioning to our new location. We hope to be back processing orders by Monday, June 5th. With this move we will be getting a larger warehouse which will allow us to better house our products and your orders!
We do ask for your patience during this time and ask that you please limit any order inquiries to our customer service team.
Balak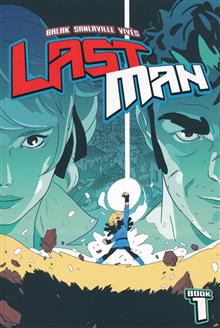 (W) Balak & Various (A/CA) Michael Sanlaville, Bastien Vives The hit French fight comic comes to Skybound! Adrian Velba has trained all year to fight in the Valley of the Kings' legendary tournament. However, despite his ambition, he has no chance of winning. Not only is his partner unable to compete, but at 12 years old, Adrian is the longest of longshots. That is, until a mysterious, powerful stranger enters town, offering to join forces with Adrian. But who is Richard Aldana? And why in a world of magic does he rely solely on his fists? The multi-volume, action-packed LASTMAN series starts here! Perfect for readers of INVINCIBLE and ULTRAMEGA!
Results 1 - 1 of 1