InStockTrades will be moving across the street to a new warehouse location starting Thursday, June 1st. We will be processing orders up until Wednesday, May 31st at 12pm EST. After that point, our staff will be focusing on packing up our warehouse and transitioning to our new location. We hope to be back processing orders by Monday, June 5th. With this move we will be getting a larger warehouse which will allow us to better house our products and your orders!
We do ask for your patience during this time and ask that you please limit any order inquiries to our customer service team.
Jason Johnson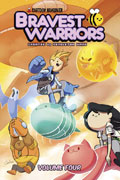 (W) Jason Johnson & Various (A) Mike Holmes, Ryan Pequin (CA) Tyson Hesse Ever wonder how the Bravest Warriors got their super rad Sticker Pets? Or what would happen if Chris' Emotion Lord powers kicked in during a trip to the Dating Pool? Or what sort of trouble Wallow could find inside the Dream Dimension? Find out in these brandnew missions, written by Bravest Warriors showrunners Breehn Burns & Jason Johnson, Eric M. Esquivel (Loki: Ragnarok and Roll), and Tessa Stone (Regular Show: Hydration), illustrated by Mike Holmes (True Story), and featuring short stories from a handful of amazing artists including Three Word Phrase creator Ryan Pequin! Collects issues #1316.
Results 1 - 1 of 1