InStockTrades will be moving across the street to a new warehouse location starting Thursday, June 1st. We will be processing orders up until Wednesday, May 31st at 12pm EST. After that point, our staff will be focusing on packing up our warehouse and transitioning to our new location. We hope to be back processing orders by Monday, June 5th. With this move we will be getting a larger warehouse which will allow us to better house our products and your orders!
We do ask for your patience during this time and ask that you please limit any order inquiries to our customer service team.
Mike Taylor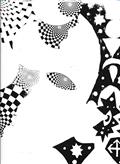 (W) Mike Taylor 'Ok, here I go. Remember to steer into it - Don't take your mind off it, get comfortable in your discomfort - Your body isn't trying to kill you - Panic attacks aren't actually dangerous - your heart will beat totally normally soon?' Thus begins Mike Taylor's raw and beautiful soul cry for America, as a modern-day Virgil in a hoody traverses the gasping and confusing psychological landscape of right now. In this inclusive and experiential journey, Taylor's ecstatic mark making comes together to form a transcendental bridge that guides the reader to a more elemental place - not unlike paradise.
Results 1 - 1 of 1