InStockTrades will be moving across the street to a new warehouse location starting Thursday, June 1st. We will be processing orders up until Wednesday, May 31st at 12pm EST. After that point, our staff will be focusing on packing up our warehouse and transitioning to our new location. We hope to be back processing orders by Monday, June 5th. With this move we will be getting a larger warehouse which will allow us to better house our products and your orders!
We do ask for your patience during this time and ask that you please limit any order inquiries to our customer service team.
Emma Beeby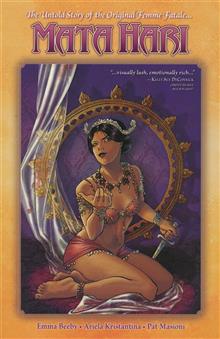 (W) Emma Beeby (A/CA) Ariela Kristantina Dancer. Courtesan. Spy. Executed by a French firing squad in 1917. One hundred years on from her death, questions are still raised about her conviction. Now, the story of the woman who claimed she was born a princess and died a figure of public hatred is told by break-out talent writer Emma Beeby (Judge Dredd), artist Ariela Kristantina (Insexts), and colorist Pat Masioni drawing on biographies and released MI5 files. We meet Mata Hari in prison at the end of her life as she writes her memoir-part romantic tale of a Javanese princess, and part real-life saga of a disgraced wife and mother. As she sits trial for treason and espionage, we hear another tale, of a flamboyant Dutch woman who became 'the most dangerous spy France has ever captured'-a double agent who whored herself for secrets, lived a life of scandal, and loved only money. Leading us to ask . . . who was the real Mata Hari? This hardcover collects Mata Hari #1-#5, as well as additional historical material and an artist's sketchbook. 'Mata Hari is a fascinating use of a medi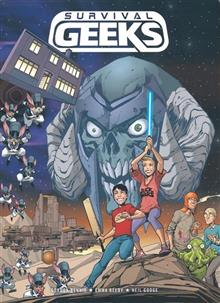 (W) Emma Beeby (A) Neil Googe, Gordon Rennie Close encounters of the nerd kind! When student Sam wakes up in the house of a group of obsessive sci-fi fans, she becomes their reluctant new housemate after the house gets transformed into a piece of misfiring trans-dimensional technology! The house takes them to places where no 2-up 2-down terraced house has gone before. Armed only with their wits (and Star Wars trivia) the group of misfits must survive in whatever horrifying dimension or alternate reality they find themselves in!
Results 1 - 2 of 2