InStockTrades will be moving across the street to a new warehouse location starting Thursday, June 1st. We will be processing orders up until Wednesday, May 31st at 12pm EST. After that point, our staff will be focusing on packing up our warehouse and transitioning to our new location. We hope to be back processing orders by Monday, June 5th. With this move we will be getting a larger warehouse which will allow us to better house our products and your orders!
We do ask for your patience during this time and ask that you please limit any order inquiries to our customer service team.
Derek Miller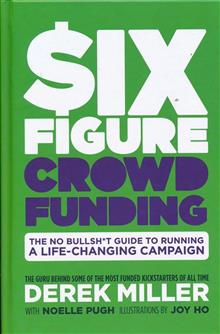 (W) Derek Miller, Noelle Pugh (A) Joy Ho (CA) Dylan Todd HOW THE HELL DO YOU CROWDFUND $100,000? HERE?'S THE ULTIMATE HANDBOOK In this bold, irreverent, hilarious how-to guide, bestselling Kickstarter campaign manager Derek Miller takes his millions of dollars of supercrowdfunding experience and delivers everything you need to know about being a modern entrepreneur in today?fs global marketplace. In other words, this ain'ft your parent?'s business book. Accompanied by laugh-out-loud illustrations by cartoonist Joy Ho, enjoy an exhaustive look into what it takes to manage and execute a successful six-figure crowdfunding campaign.
Results 1 - 1 of 1