InStockTrades will be moving across the street to a new warehouse location starting Thursday, June 1st. We will be processing orders up until Wednesday, May 31st at 12pm EST. After that point, our staff will be focusing on packing up our warehouse and transitioning to our new location. We hope to be back processing orders by Monday, June 5th. With this move we will be getting a larger warehouse which will allow us to better house our products and your orders!
We do ask for your patience during this time and ask that you please limit any order inquiries to our customer service team.
Brian Froud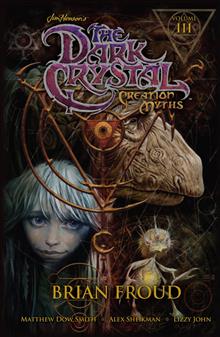 (W) Brian Froud, Matthew Dow Smith (A) Alex Sheikman, Lizzy John (CA) Brian Froud Writers: Brian Froud, Matthew Dow Smith Artists: Alex Sheikman, Lizzy John Cover Artist: Brian Froud Synopsis: Now in softcover. Brian Froud, legendary conceptual designer of the beloved Jim Henson fantasy film The Dark Crystal, returns to the world he helped create in this stunning conclusion of the official prequel to the original movie. The world of Thra is shattered. As the aftermath of the Great Conjunction wreaks havoc upon the Gelfling tribes, the Geflings may have no choice but to rely upon the one race offering aid: the Skeksis. This volume features behind-the-scenes photos and concept sketches from the Jim Henson Company Archives documenting how creature and puppet designs that never made it into the film were adapted and brought to life on the page.
Results 1 - 1 of 1