InStockTrades will be moving across the street to a new warehouse location starting Thursday, June 1st. We will be processing orders up until Wednesday, May 31st at 12pm EST. After that point, our staff will be focusing on packing up our warehouse and transitioning to our new location. We hope to be back processing orders by Monday, June 5th. With this move we will be getting a larger warehouse which will allow us to better house our products and your orders!
We do ask for your patience during this time and ask that you please limit any order inquiries to our customer service team.
MachineGames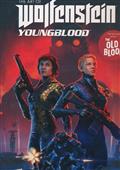 (W) MachineGames Filled with amazing art and exclusive commentary, this gorgeous hardcover art book invites its reader to delve deep into this superb collection of production material from the latest romp into the world of Wolfenstein. This item is a must-have for sisters, brothers, and all other champions for the cause! o From the studios behind Doom and RAGE 2!
Results 1 - 1 of 1