InStockTrades will be moving across the street to a new warehouse location starting Thursday, June 1st. We will be processing orders up until Wednesday, May 31st at 12pm EST. After that point, our staff will be focusing on packing up our warehouse and transitioning to our new location. We hope to be back processing orders by Monday, June 5th. With this move we will be getting a larger warehouse which will allow us to better house our products and your orders!
We do ask for your patience during this time and ask that you please limit any order inquiries to our customer service team.
A. J. Lieberman
(W) A. J. Lieberman (A/CA) Riley Rossmo SOON TO BE A MAJOR MOTION PICTURE STARRING CHRIS PRATT (Guardians of the Galaxy, Jurassic World). This giant, oversized, deluxe trade paperback collects the entire run of the critically acclaimed, fan-favorite series, complete with extensive extras & bonus material. It started with Dr. Sebastian Ghislain-rogue psychotherapist / covert op / DJ. Tasked with creating a counterintelligence unit, he turned to those long thought useless to society: patients with multiple personality disorder. These agents became known simply as Triplets. Misguided? Yeah. Impractical? Sure. But did it work? Absolutely not! Now someone has located each Triplet and created a band of ridiculously disturbed but highly effective assassins. Our only hope? A Triplet known as Cowboy Ninja Viking. We are so screwed!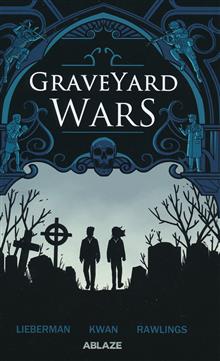 (W) A. J. Lieberman (A) Andrew Sebastian Kwan (CA) A. J. Lieberman, Andrew Sebastian Kwan There are those among us, all of whom have had near death experiences, who now have an ability called a Soul-Skill which allows them access to the skill-sets of the dead; fighter, mechanic, sniper. Anything. This ability connects them in this realm to the soul, and its skill, in the next. Pilot. Hacker. Assassin. Anything. While not everyone who touches death is able to retain this ability those who do have formed two warring guilds: Caretakers and Dark Hearts. The Caretaker's mission? To use the power of the dead to protect the living. Welcome to Graveyard Wars. All his life Ethan Noble felt he was different; unstable, crazy. How else to explain his ability to master so many different skills only to have them vanish time after time. All her life Carter Noble has tried in vain to help her brother. Raise him, shield him, understand him. An impossible task, even for a twin, because no matter how hard Ethan tried to explain his behavior Carter was never able to understand and any attempt to enlis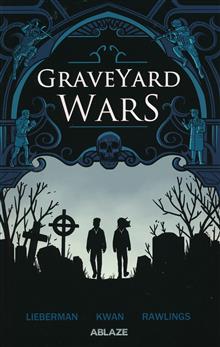 (W) A. J. Lieberman (A) Andrew Sebastian Kwan (CA) Andrew Sebastian Kwan, A. J. Lieberman There are those among us, all of whom have had near death experiences, who now have an ability called a Soul-Skill which allows them access to the skill-sets of the dead; fighter, mechanic, sniper. Anything. This ability connects them in this realm to the soul, and its skill, in the next. Pilot. Hacker. Assassin. Anything. While not everyone who touches death is able to retain this ability those who do have formed two warring guilds: Caretakers and Dark Hearts. The Caretaker's mission? To use the power of the dead to protect the living. Welcome to Graveyard Wars. All his life Ethan Noble felt he was different; unstable, crazy. How else to explain his ability to master so many different skills only to have them vanish time after time. All her life Carter Noble has tried in vain to help her brother. Raise him, shield him, understand him. An impossible task, even for a twin, because no matter how hard Ethan tried to explain his behavior Carter was never able to understand and any attempt to enlis
Results 1 - 3 of 3