InStockTrades will be moving across the street to a new warehouse location starting Thursday, June 1st. We will be processing orders up until Wednesday, May 31st at 12pm EST. After that point, our staff will be focusing on packing up our warehouse and transitioning to our new location. We hope to be back processing orders by Monday, June 5th. With this move we will be getting a larger warehouse which will allow us to better house our products and your orders!
We do ask for your patience during this time and ask that you please limit any order inquiries to our customer service team.
Sylviane Corgiat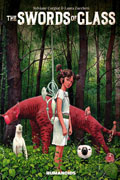 (W) Sylviane Corgiat (A/CA) Laura Zuccheri In a world threatened by the imminent death of its sun, young Yama lives a relatively happy and peaceful life. But everything changes the day a sword of glass falls from the sky, just as the prophecy had announced. Anyone who touches the sword is instantly turned to glass and dies. Orland, the local lord of war, comes to take possession of the unique weapon but fails to retrieve it. In the process, Yama's father is killed and her mother taken away. Yama, however, escapes and survives with only one thought: when she grows up, she will return to get the sword of glass, and avenge her parents.
Results 1 - 1 of 1