InStockTrades will be moving across the street to a new warehouse location starting Thursday, June 1st. We will be processing orders up until Wednesday, May 31st at 12pm EST. After that point, our staff will be focusing on packing up our warehouse and transitioning to our new location. We hope to be back processing orders by Monday, June 5th. With this move we will be getting a larger warehouse which will allow us to better house our products and your orders!
We do ask for your patience during this time and ask that you please limit any order inquiries to our customer service team.
Allan Heinberg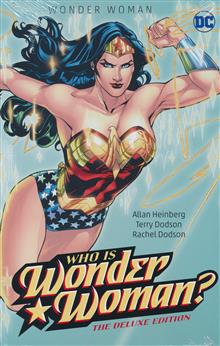 (W) Allan Heinberg (A) Terry Dodson, Rachel Dodson (CA) Terry Dodson - Rachel Dodson Diana has gone missing! But Donna Troy is ready and graduates from sidekick to superhero as she takes on the mantle of Wonder Woman. Long before Allan Heinberg wrote the 2017 Wonder Woman feature film, he teamed up with Terry and Rachel Dodson to explore Themysciran intrigue and deception! This deluxe edition collects the first arc in the 2006 WONDER WOMAN series, issues #1-6.
Results 1 - 1 of 1