InStockTrades will be moving across the street to a new warehouse location starting Thursday, June 1st. We will be processing orders up until Wednesday, May 31st at 12pm EST. After that point, our staff will be focusing on packing up our warehouse and transitioning to our new location. We hope to be back processing orders by Monday, June 5th. With this move we will be getting a larger warehouse which will allow us to better house our products and your orders!
We do ask for your patience during this time and ask that you please limit any order inquiries to our customer service team.
Sakurako Gokurakuin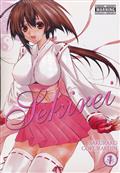 (W/A/CA) Sakurako Gokurakuin Minato Sahashi is a rounin, a two-time loser who's failed his college placement exams. Just as he's contemplating giving up and heading home, though, a chance encounter changes his life forever! Enter Musubi, a girl who literally falls into Minato's life! Musubi is a Sekirei, a modified human caught up in a game in which only one of her kind can be left standing. In order to be victorious in this contest, though, she needs to find her Ashikabi (her fated partner)... and guess who fits the bill? Caught up in battle he barely understands, can Minato survive 'The Sekirei Project' and emerge victorious? Either way, with his buxom new cohort by his side, his life will certainly never be the same!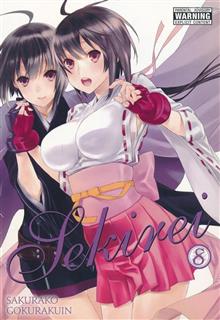 (W/A/CA) Sakurako Gokurakuin A new game's just begun, and Minato and friends barely have a moment to breathe before Musubi, Tsukiumi, and Matsu are off and running. What awaits them are the fated battles of this final stage. Kaho faces Karasuba--a menacing presence from her past--while Musubi and company are up against Hikari and Hibiki!!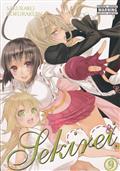 (W/A/CA) Sakurako Gokurakuin The ark slumbering under Kamikura Island shuts down, leading to an invasion by a foreign military force! Meanwhile, Karasuba is driven by delusion--forever awaiting a friend who will never return--and Musubi is the only one who can face her. Who will be the last to survive this final 'party'...!? For Ages 18 And Up
Results 1 - 3 of 3