InStockTrades will be moving across the street to a new warehouse location starting Thursday, June 1st. We will be processing orders up until Wednesday, May 31st at 12pm EST. After that point, our staff will be focusing on packing up our warehouse and transitioning to our new location. We hope to be back processing orders by Monday, June 5th. With this move we will be getting a larger warehouse which will allow us to better house our products and your orders!
We do ask for your patience during this time and ask that you please limit any order inquiries to our customer service team.
Heather Nuhfer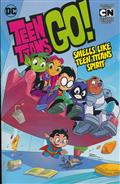 (W) Heather Nuhfer & Various (A) Marcelo DiChiara & Various (CA) Dario Brizuela The prank war to end all prank wars has erupted in Titans Tower, but Beast Boy seems to be out-pranking everyone. Then, Robin's 'Poetry Jam' was supposed to be romantic, but things are about to get really gross instead. And when Titans Tower is condemned, the Titans find out if the Batcave is available! Collects TEEN TITANS GO! #19-24.
Results 1 - 1 of 1