InStockTrades will be moving across the street to a new warehouse location starting Thursday, June 1st. We will be processing orders up until Wednesday, May 31st at 12pm EST. After that point, our staff will be focusing on packing up our warehouse and transitioning to our new location. We hope to be back processing orders by Monday, June 5th. With this move we will be getting a larger warehouse which will allow us to better house our products and your orders!
We do ask for your patience during this time and ask that you please limit any order inquiries to our customer service team.
Eric Powell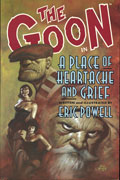 An ancient curse spreads hatred, fear, and violence, drawing the most powerful and vile creatures to a town with only one hope for protection-the Goon. Even the Goon's lifelong deadly foe, the zombie priest, is running scared. But he has to remain, forced into submission by a power greater than his own, to keep an eye on Goon and his violent sidekick, Franky. The death of one of the Goon's closest allies reveals an enemy thought long gone, returned to wreak havoc and destruction upon the Goon and those who stand by him. There's some funny stuff, too! Collects the first part of Goon Year (#19-#23): The Return of Labrazio!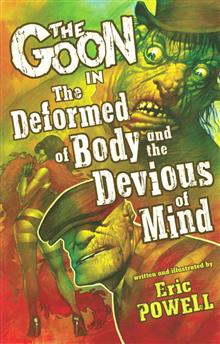 Sparkly, skinny-jean wearin' vampires, wiener-eatin' hoboes, multinational midgets, and 2010 Queen of Burlesque star, Roxi DLite, are just a few of the obstacles Goon and Franky are up against in this new collection from Dark Horse Comics! Plus, guest writer Evan Dorkin (Milk and Cheese, Beasts of Burden) pits Goon against the horrendous, bacon-eating behemoth, the Ten-in-One! Collects The Goon issues #34-#37, The Goon in 'An Irish Wake' from USA Today, and The Goon's on Vacation from Billy the Kid's Old Timey Oddities and the Ghastly Fiend of London.
The first four issues and the ComiXology short story of Eric Powell's Appalachian fantasy series are collected here along with bonus sketch material!
Results 1 - 3 of 3