InStockTrades will be moving across the street to a new warehouse location starting Thursday, June 1st. We will be processing orders up until Wednesday, May 31st at 12pm EST. After that point, our staff will be focusing on packing up our warehouse and transitioning to our new location. We hope to be back processing orders by Monday, June 5th. With this move we will be getting a larger warehouse which will allow us to better house our products and your orders!
We do ask for your patience during this time and ask that you please limit any order inquiries to our customer service team.
Frank Asch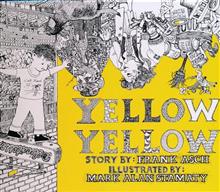 (W) Frank Asch (A/CA) Mark Alan Stamaty Yellow Yellow is a charmingly simple story of a child whose playground is a gritty urban cityscape. With no parent in sight, the boy wanders the sidewalks to find a yellow construction hat which quickly becomes his favorite belonging; earning him many compliments from strangers on nearby stoops. Eventually the boy meets the owner of the hat and must return it, leading the child to make his own yellow hat. Yet the story comes alive via the visual feast of urban oddities that the Who Needs Donuts? cartoonist Stamaty packs in the background of this rediscovered children's classic.
Results 1 - 1 of 1