InStockTrades will be moving across the street to a new warehouse location starting Thursday, June 1st. We will be processing orders up until Wednesday, May 31st at 12pm EST. After that point, our staff will be focusing on packing up our warehouse and transitioning to our new location. We hope to be back processing orders by Monday, June 5th. With this move we will be getting a larger warehouse which will allow us to better house our products and your orders!
We do ask for your patience during this time and ask that you please limit any order inquiries to our customer service team.
Frank Hampson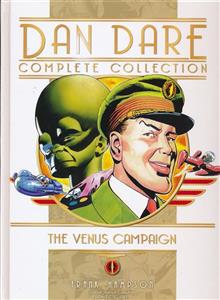 (W/A) Frank Hampson Introducing one of science fiction's most enduring heroes, Dan Dare. This Omnibus edition of Dan Dare contains his first three full adventures digitally remastered for the very first time. Dan Dare, Pilot of the Future was first published in classic British comic The Eagle in 1950. These are the original adventures of one of the best known and loved of British comic characters, presented in a new series of gorgeous library editions from Titan Comics. Pilot of the Future: Voyage to Venus Pt 1 & 2 Dan and his crew set off to explore Venus, hoping to find new resources to feed a starving earth. But the planet is already the lair of the pint-sized megalomaniac The Mekon, who plans to conquer the Earth! Now it's up to Dare and his bat-man Digby to help the enslaved people of Venus to rise up and defeat the massive green headed evil genius. THE Red Moon Mystery Dan and his trusty crew must head once more into the dangerous, icy depths of space to uncover the secrets of a strange red moon that has entered the Solar System and threatens Earth with destruction!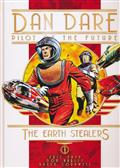 (W) Frank Hampson, Frank Bellamy (A) Don Harley, Bruce Cornwell This collections contains 2 stories - The Earth Stealers and Platinum Planet! The Continuing of one of science fictions most enduring hero, Dan Dare, Pilot of the Future! Dan Dare and Digby awaken, after an unknown number of years, from deep-space hibernation to find themselves lost and adrift in an unknown region and orbiting a mysterious planet!
Results 1 - 2 of 2