InStockTrades will be moving across the street to a new warehouse location starting Thursday, June 1st. We will be processing orders up until Wednesday, May 31st at 12pm EST. After that point, our staff will be focusing on packing up our warehouse and transitioning to our new location. We hope to be back processing orders by Monday, June 5th. With this move we will be getting a larger warehouse which will allow us to better house our products and your orders!
We do ask for your patience during this time and ask that you please limit any order inquiries to our customer service team.
Mark Perez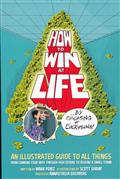 (W) Mark Perez (A) Scott Shaw, Annastasia Goldberg (CA) Scott Shaw A lot of how-to books assume that the reader is a good and wholesome person who wants to follow the law and not rip other people off. This is FOOLISH! Let John D'Hough (not his real name) tell you all about the glorious world of grift, the science of scam, and the craft of criminality as he explains how he was able to fleece the entire town of Honest, Indiana. A biting comedic satire, this debut novel from Hollywood screenwriter Mark Perez pulls no punches, and everybody gets his fair share. Featuring a cover and interior cartoon illustrations from former Flintstones character designer Scott Shaw! o Darkly comedic debut novel by screenwriter Mark Perez.
Results 1 - 1 of 1