InStockTrades will be moving across the street to a new warehouse location starting Thursday, June 1st. We will be processing orders up until Wednesday, May 31st at 12pm EST. After that point, our staff will be focusing on packing up our warehouse and transitioning to our new location. We hope to be back processing orders by Monday, June 5th. With this move we will be getting a larger warehouse which will allow us to better house our products and your orders!
We do ask for your patience during this time and ask that you please limit any order inquiries to our customer service team.
Jorge R. Gutierrez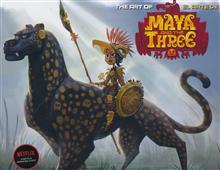 (W) Jorge R. Gutierrez This oversized full-color hardcover artbook allows fans of animation, world-building, and character design a behind-the-scenes look at how all three combine to build great stories. Dive into the art of Jorge Gutierrez's new Netflix series, featuring Maya, the eagle-warrior princess. Capturing the beauty of the series in one epic tome, with fully bilingual (Spanish/English) text. This book reveals every step that went into bringing the series to life. Full of dynamic characters rooted in South American folklore, Maya and The Three breathes new life into the gods and monsters from Aztec, Mayan, Incan, and Caribbean mythology in an exciting new way. o Packed with details that went into making the characters, settings, weapons, and critters authentic and unique. Including detailed explorations of the wide variety of lush, vibrant, and sometimes spooky mythology and settings.
Results 1 - 1 of 1