InStockTrades will be moving across the street to a new warehouse location starting Thursday, June 1st. We will be processing orders up until Wednesday, May 31st at 12pm EST. After that point, our staff will be focusing on packing up our warehouse and transitioning to our new location. We hope to be back processing orders by Monday, June 5th. With this move we will be getting a larger warehouse which will allow us to better house our products and your orders!
We do ask for your patience during this time and ask that you please limit any order inquiries to our customer service team.
Dean Hale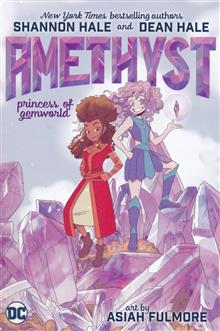 (W) Shannon Hale, Dean Hale (A/CA) Asiah Fulmore Amaya, princess of House Amethyst in Gemworld, and her brother love magical pranks. But when one goes much too far, her parents ground the young royal?to Earth! They hope a week in the mundane world teaches her that magic is a privilege?and maybe washing dishes by hand will help her realize that the palace servants should be respected. Three years later, Amy has settled into middle school and ordinary life. She doesn?t remember any other home. So when a prince of the realm brings her back to Gemworld and restores her magical destiny, how will she cope?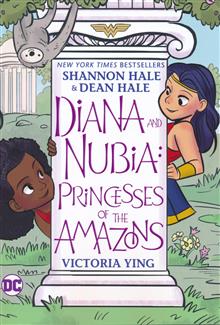 (W) Shannon Hale, Dean Hale (A/CA) Victoria Ying Princess Nubia loves her mothers, their home on Themyscira, and all of her Amazon aunties. But she?s still lonely sometimes. It?s hard being the only kid on an island full of adults! She just wishes that things could be different. And then, one morning, things are different. There?s a stranger sharing her bedroom?and the interloper, Diana, insists that it?s her room! And their parents think they?re both just being pests?they?ve always shared a room. What is happening? Could it be that wishing into Hera?s Ear on the night of the solstice worked? Will Nubia get to keep this strange new sister? Does she even want to?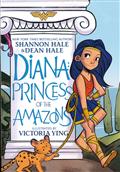 (W) Dean Hale, Shannon Hale (A/CA) Victoria Ying Eleven-year-old Diana leads an idyllic life on the island of Themyscira. Cut off from the rest of the world, she's beginning to feel a little alone. Though she has a loving mother and many 'aunties,' she is an only child. In fact, she's the only child on the entire island! After an escapade goes wrong, Diana gets in trouble for not living up to the Amazonian standard. She just can't seem to measure up no matter what she does. Every other person on the island is an adult proficient in their trade and mighty in body, while she is gangly, sometimes clumsy, and not particularly good at anything. She's not Wonder Woman...yet, anyway. What Diana needs is a friend; someone her own age whom she can talk to. But when she decides to take matters into her own hands, she encounters the unexpected! From New York Times bestselling authors Shannon Hale (Princess Academy) and Dean Hale and artist Victoria Ying comes a heartfelt story about making mistakes, learning the hard way, and growing up to become a hero.
Results 1 - 3 of 3