InStockTrades will be moving across the street to a new warehouse location starting Thursday, June 1st. We will be processing orders up until Wednesday, May 31st at 12pm EST. After that point, our staff will be focusing on packing up our warehouse and transitioning to our new location. We hope to be back processing orders by Monday, June 5th. With this move we will be getting a larger warehouse which will allow us to better house our products and your orders!
We do ask for your patience during this time and ask that you please limit any order inquiries to our customer service team.
Jeffrey Burandt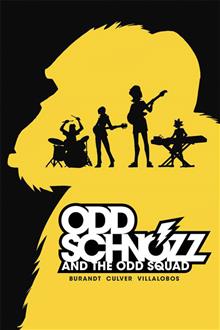 (W) Jeffrey Burandt (A/CA) Dennis Culver Liz, Bodey, Maude, and Justine's band, Odd Schnozz and the Odd Squad, are sure to win this year's Battle of the Bands. But when a talking chimp, who claims to be a scientist from the mysterious organization B.L.A.N.K., interrupts their practice session, the band's got a whole new set of problems. Now B.L.A.N.K. agents are closing in, determined to recapture the escaped chimp before he becomes a liability. Jeffrey Burandt (Americans UK) and Dennis Culver (Edison Rex) bring you this trilling tale of cyborg animals and punk rock teenagers. 1, 2, 3, 4!
Results 1 - 1 of 1