InStockTrades will be moving across the street to a new warehouse location starting Thursday, June 1st. We will be processing orders up until Wednesday, May 31st at 12pm EST. After that point, our staff will be focusing on packing up our warehouse and transitioning to our new location. We hope to be back processing orders by Monday, June 5th. With this move we will be getting a larger warehouse which will allow us to better house our products and your orders!
We do ask for your patience during this time and ask that you please limit any order inquiries to our customer service team.
MICHAEL REAVES STEVEN-ELLIOT ALTMAN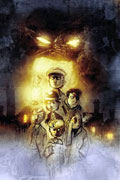 A madman stalks the streets of London's Whitechapel slum, leaving a trail of grisly murders in his wake. The police have only one suspect: a prominent and respected physician named John Watson! The master detective Sherlock Holmes, in order to solve the most fantastic mystery of his career and save his greatest friend from the gallows, employs a band of young street urchins to infiltrate the alleys of Whitechapel. They can go everywhere, see everything, overhear everyone. They are the Baker Street Irregulars! Join the Irregulars in the most fantastic and terrifying adventure of their lives, as they uncover an evil unlike anything Sherlock Holmes has ever faced! Sherlockian mystery and Lovecraftian horror collide in an adventure that's sure to please fans of both genres. From best-selling authors Steven-Elliot Altman (Deprivers , The Touch: Epidemic of the Millennium, Zen in the Art of Slaying Vampires) and Michael Reaves (Medstar 2: Jedi Healer (Star Wars: Clone Wars Novel), Shadow Hunter (Star Wars: Darth Maul), featuring the incredible artwork of rising star Bong Dazo!
Results 1 - 1 of 1