InStockTrades will be moving across the street to a new warehouse location starting Thursday, June 1st. We will be processing orders up until Wednesday, May 31st at 12pm EST. After that point, our staff will be focusing on packing up our warehouse and transitioning to our new location. We hope to be back processing orders by Monday, June 5th. With this move we will be getting a larger warehouse which will allow us to better house our products and your orders!
We do ask for your patience during this time and ask that you please limit any order inquiries to our customer service team.
Terry Blas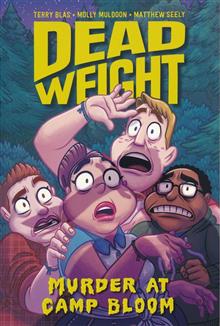 (W) Terry Blas, Molly Muldoon (A/CA) Matthew Seely Deep in the Oregon wilderness sits Camp Bloom, a weight-loss camp where 'overweight' teens can 'get in shape.' Jesse would rather be anywhere else, but her parents are forcing her to go. Noah isn't sure if he wants to be there, but it's too late to turn back. Tony is heartbroken at the thought of giving up his phone and internet. And Kate... well, she likes the hikes, at least. As far as these four teens are concerned, it's just another boring summer. Until one night, when Jesse and Noah witness a beloved counselor's murder. The body's gone by the next morning, but a blurry photo leads to one clue-the murderer is one of the camp's staff members! But which one? As Jesse, Noah, Kate, and Tony investigate, they quickly discover that everyone's got their secrets... and one of them would kill to keep theirs hidden.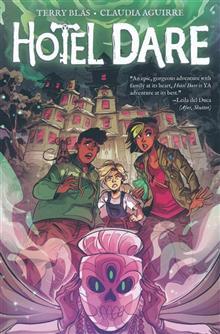 (W) Terry Blas (A/CA) Claudia Aguirre œ OPEN THE DOOR. ADVENTURE AWAITS. œ Olive and her adopted siblings, Charlotte and Darwin, are spending the summer with their estranged grandma at her creepy hotel, and it's all work and no play. They're stuck inside doing boring chores until they stumble upon an incredible secret... behind each door of the hotel lies a portal to a strange and mysterious place. œ The simple turn of a knob transports them to a distant magical world filled with space pirates. Behind the next door are bearded wizards. Down the hall is a doorway to a cotton-candied kingdom. But once the doors are open, worlds start colliding, and only one family can save them before the hotel tears itself apart. œ Written by Terry Blas ( The Amazing World of Gumball) and illustrated by the talented Claudia Aguirre ( Kim & Kim ), this world-hopping fantasy tale breaks down the door to imagination and dares you to embrace the idea that family is everything.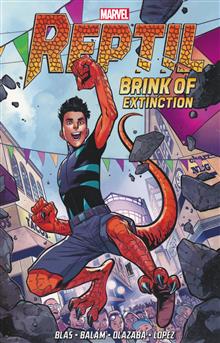 (W) Terry Blas, Christos Gage (A) Enid Balam, Steve Uy (CA) Paco Medina Reptil - the dinosaur-powered graduate of Avengers Academy - is on the brink of extinction! In the wake of his grandfather's worsening health, Humberto Lopez has taken a step back from crimefighting to focus on his family. Perhaps it's a sign that he should give up on becoming a hero and finally come to terms with his parents' mysterious disappearance?or perhaps not! When a mysterious figure ambushes Humberto, what unravels will shake the core of everything that Reptil thought he knew about his past. And it will either change the course of his future - or end it forever! Plus: Relive Humberto's sensational debut! When Stegron the Dinosaur Man launches a campaign of destruction across America, the Avengers Initiative needs a new recruit - and Reptil is just the hero for the job! Collecting REPTIL #1-4 and AVENGERS: THE INITIATIVE FEATURING REPTIL Ages 10 & Up
Results 1 - 3 of 3