InStockTrades will be moving across the street to a new warehouse location starting Thursday, June 1st. We will be processing orders up until Wednesday, May 31st at 12pm EST. After that point, our staff will be focusing on packing up our warehouse and transitioning to our new location. We hope to be back processing orders by Monday, June 5th. With this move we will be getting a larger warehouse which will allow us to better house our products and your orders!
We do ask for your patience during this time and ask that you please limit any order inquiries to our customer service team.
Jim Lawrence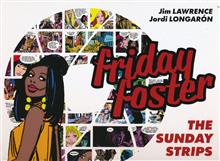 (W) Jim Lawrence (A) Jorge Longaron, Gray Morrow The Friday Foster comic strip is the story of a former nightclub 'camera bunny' turned photographer's assistant turned fashion model. With an innate inclination to help others and a natural beauty that makes her a magnet for men, Friday often finds herself in some very sticky situations and world-class adventures. The strip is generally cited as the first mainstream (i.e. nationally syndicated) comic strip starring a black character in the title role and features a mixture of adventure and romance, often with social commentary thrown in for good measure. The strip ran from 1970-1974.
Results 1 - 1 of 1