InStockTrades will be moving across the street to a new warehouse location starting Thursday, June 1st. We will be processing orders up until Wednesday, May 31st at 12pm EST. After that point, our staff will be focusing on packing up our warehouse and transitioning to our new location. We hope to be back processing orders by Monday, June 5th. With this move we will be getting a larger warehouse which will allow us to better house our products and your orders!
We do ask for your patience during this time and ask that you please limit any order inquiries to our customer service team.
James Wyatt
(W/A/CA) James Wyatt VIZ Media dives deep into the archives of Magic: The Gathering? with an inside look at the creation of the characters, planes, creatures and lore of the world's most popular trading card game.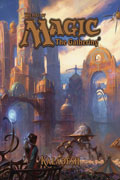 Optimism, innovation, and the spirit of creativity fill these pages, lavishly illustrated with the award-winning art of Magic: The Gathering! Welcome to Kaladesh - a vibrant, beautiful plane where anything is possible. Join the heroic Planeswalkers of the Gatewatch as they explore the Inventors' Fair, and let your imagination soar alongside thopters and airships crafted by the best artificers in the Multiverse. Come discover the marvels of Kaladesh - it's inhabitants, it's inventors, and it's artifacts. They all await you at the grand Inventors' Fair!
Results 1 - 2 of 2