InStockTrades will be moving across the street to a new warehouse location starting Thursday, June 1st. We will be processing orders up until Wednesday, May 31st at 12pm EST. After that point, our staff will be focusing on packing up our warehouse and transitioning to our new location. We hope to be back processing orders by Monday, June 5th. With this move we will be getting a larger warehouse which will allow us to better house our products and your orders!
We do ask for your patience during this time and ask that you please limit any order inquiries to our customer service team.
Kevin Smith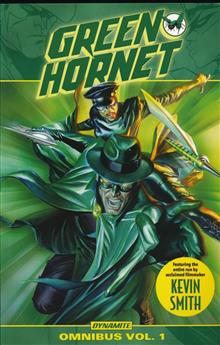 (W) Kevin Smith, Phil Hester (A) Jonathan Lau (CA) Alex Ross A daring new vision of the iconic pulp hero Green Hornet by trailblazing filmmaker Kevin Smith (Clerks, Chasing Amy)! When a mysterious figure brutally and publicly murders his father, frivolous playboy Britt Reid Jr. inherits the legacy and mantle of Century City's greatest protector! Aided by his father's longtime ally, Kato, and an all-new, high-kicking female sidekick, the Hornet takes to the streets on a mission of justice. Presenting, for the first time ever, the complete comic book adaptation of Smith's unproduced Green Hornet screenplay, plus an explosive bonus storyline of the reimagined Green Hornet and Kato, courtesy of Phil Hester and series artist Jonathan Lau. High-octane action, drama, and humor, as only Kevin Smith can deliver!
(W) Kevin Smith (A) Pernille Orum-Nielsen (CA) Francesco Francavilla Hit-Girl tears Tinsel Town a new one when she realises her life's being dramatized for the silver screen. The adolescent assassin storms sets, wages war on fat-cat movie bosses, and lures old enemies out of hiding in this kamikaze Californian bloodbath. Collects HIT-GIRL SEASON TWO #1-4.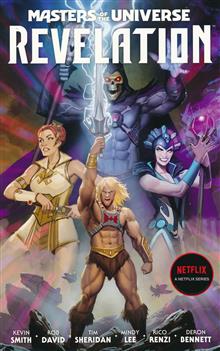 (W) Kevin Smith & Various (A) Mindy Lee (CA) Stejpan Sejic This is the official comic book prequel to the Netflix television show written by showrunner Kevin Smith and episode writer Tim Sheridan and featuring art by Mindy Lee (Crimson Lotus). Following a vicious Orlax attack on his father King Randor, He-Man learns the creature is linked to the origin of the sword of power. To save Randor and put an end to the chaos He-Man embarks on an epic journey that pits him against his longtime foes Skeletor and Evil-Lyn, and sees Teela take the reins of a powerful legacy. Collects the four-issue series and features covers by Stjepan Sejic and pinups from Mike Mignola, Walt Simonson, Bill Sienkiewicz, and more! 'Forget what's come before, THIS is the new canon, following along the road laid out in the original cartoon series.' -Comic Watch
Results 1 - 3 of 3