InStockTrades will be moving across the street to a new warehouse location starting Thursday, June 1st. We will be processing orders up until Wednesday, May 31st at 12pm EST. After that point, our staff will be focusing on packing up our warehouse and transitioning to our new location. We hope to be back processing orders by Monday, June 5th. With this move we will be getting a larger warehouse which will allow us to better house our products and your orders!
We do ask for your patience during this time and ask that you please limit any order inquiries to our customer service team.
Steve Skroce
(W/A/CA) Steve Skroce The Maestro and his entire royal family have been murdered. Now, his banished son from Earth will inherit the Wizard King's throne-along with a spell that turns its user into God. With enemies everywhere, will this Orlando-born millennial be able to keep his new magic kingdom? A darkly irreverent fantasy series from STEVE SKROCE, the storyboard artist of The Matrix trilogy, the artist and co-creator of WE STAND ON GUARD and Doc Frankenstein, the writer/artist of Wolverine, and the artist of Amazing Spider-Man and ALAN MOORE's YOUNGBLOOD. Collects MAESTROS #1-7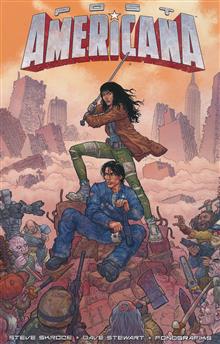 (W) Steve Skroce (A/CA) Steve Skroce, Dave Stewart From MAESTROS creator, WE STAND ON GUARD co-creator, and The Matrix storyboard artist STEVE SKROCE, with colors by Eisner Award winner DAVE STEWART. The Cheyenne mountain installation, aka The BUBBLE, is the most sophisticated super bunker in the world. It was built to ensure the survival of the American government's executive branch, as well as America's most important citizens, should the unthinkable happen. When the world ended, the executive branch didn't reach the sanctuary, but the elite citizenry did. Eighty years later, one of them has named himself the new president of the United States. His plan? Subjugate the survivors of the American Wasteland using the same bunker resources meant to rebuild it. The only thing standing in his way is a deadly Wasteland girl, hellbent on revenge! COLLECTS POST AMERICANA #1-7.
Results 1 - 2 of 2